On the occasion of the Mobile World Congress Barcelona & 4YFN, Gate2Brain will participate in the round table session organized by Foment del Treball, on "Innovation & Scalability for the new generations"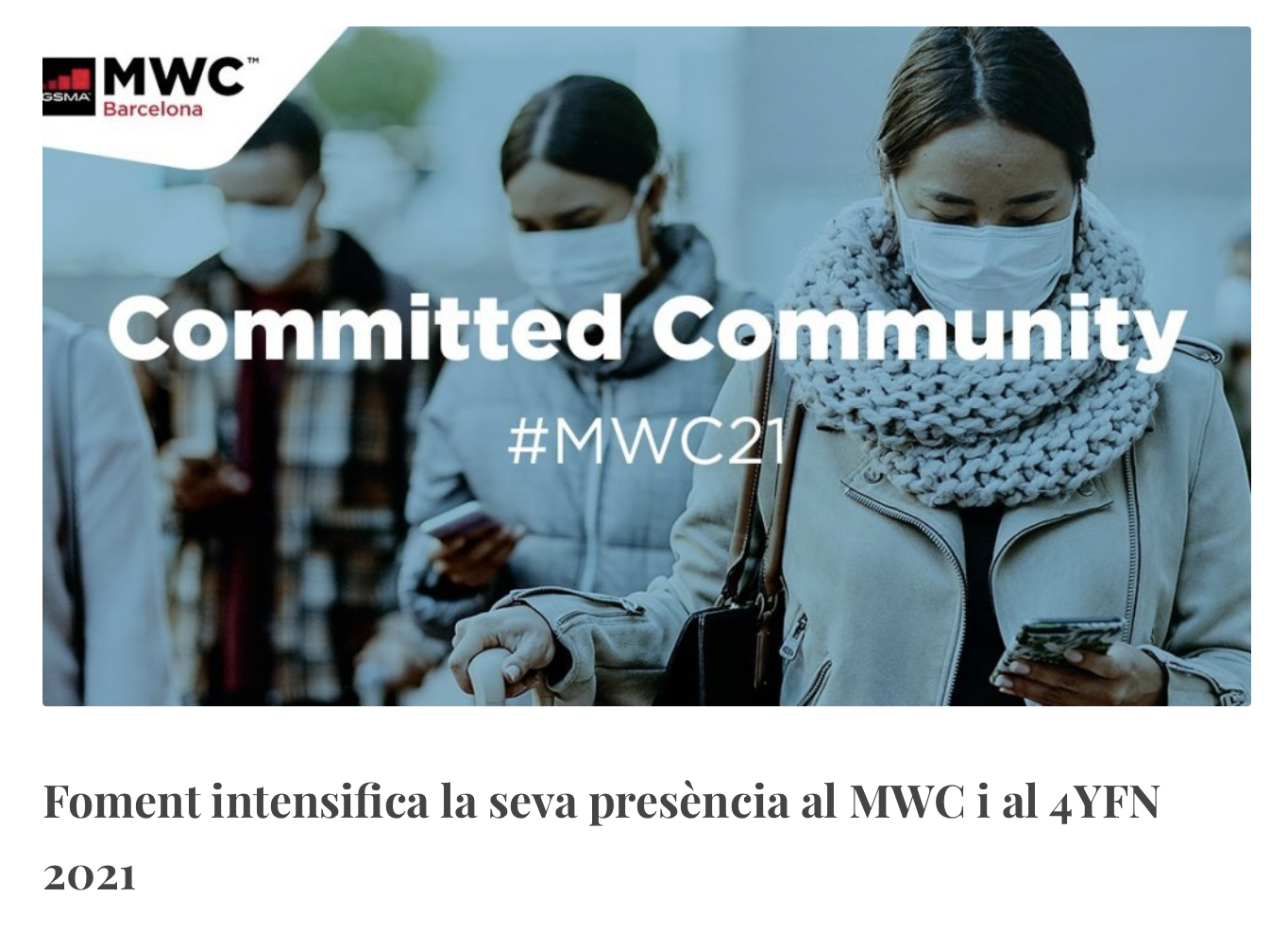 Foment intensifica la seva presència al MWC i al 4YFN 2021
La patronal organitza una jornada en un stand del MWC aquest dimecres 30 de juny a les 16 hores sobre la nova generació d'innovadores i el finançament com a palanca de creixement
Arrenca l'edició 2021 del Mobile World Congress Barcelona & 4YFN que enguany se celebren de forma conjunta. Foment del Treball en virtut de la celebració dels seus 250 anys i de la seva col·laboració amb la Fundació Mobile World Capital, organitza un acte en un stand del MWC aquest dimecres 30 de juny a les 16 hores, en el qual convida als membres de la seva Junta Directiva a assistir presencialment, però també es podrà seguir en streming a través del canal de Youtube de la patronal. Inauguraran la trobada el CEO de la Mobile World Capital Barcelona,Carles Grau, i la vicepresidenta de Foment, Virginia Guinda.
La jornada tractarà sobre 'Innovació i escalabilitat per a les noves generacions' i comptarà amb dos panells temàtics. El primer sobre els reptes i oportunitats per a la nova generació d'innovadores, amb una taula d'empresàries formada per la CEO de The Smart Lollipop, Diana Ballart; la CEO de The Blue Box, Judith Giró; la CEO de Julia G Escribà, Julia Escribà; la CEO de Gate2Brain, Meritxell Teixidó; i la directora d'Innovació de Foment, Maria Mora, com a moderadora. Per la seva part, la cònsol general en funcions del Consolat General dels Estats Units a Barcelona, Emma Marwood, introduirà la taula presentant l'edició catalana de l'Academy for Women Entrepreneurs (AWE) 2021, impulsada per Foment i el Consolat General dels EUA a Barcelona.
El segon bloc versarà sobre el finançament com a palanca de creixement, amb el Senior Advisor de JB Capital Partners, David Cortacans; el soci de SUMA Capital, Pau Bermúdez-Cañete; el vicepresident de BANC, Albert Colomer, i la vicepresidenta de Foment, Mar Alarcón, com a moderadora.
La patronal catalana ha incrementat el seu compromís i presència al MWC amb l'objectiu d'interpel·lar encara més el conjunt del teixit empresarial amb el potencial de l'ecosistema tecnològic, en un context com l'actual de recuperació econòmica per la crisi ocasionada per la pandemia. Foment aposta per treballar per la continuïtat més enllà del 2021 i les futures edicions. El MWC té un impacte econòmic de 473 milions d'euros i projecta la ciutat de Barcelona com una de les metròpolis més atractives del món per als negocis.
Fuente: Foment del Treball Nacional
https://gate2brain.com/wp-content/uploads/2021/06/Captura-de-pantalla-2021-06-29-a-las-11.00.29.png
986
1364
noticias
https://gate2brain.com/wp-content/uploads/2020/12/Logo-Gate1Brain500pxGrueso.png
noticias
2021-06-29 11:09:42
2021-06-29 13:22:03
On the occasion of the Mobile World Congress Barcelona & 4YFN, Gate2Brain will participate in the round table session organized by Foment del Treball, on "Innovation & Scalability for the new generations"